Brush Pan Cleaner and Oiler
Precisma Manual spray unit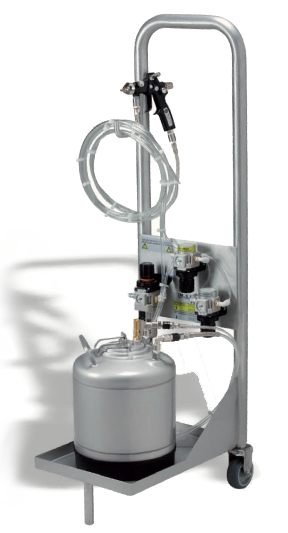 Very economic on release agent
Precise dosage of application quantity possible
Film evenly distributed over the entire surface
For all conventional release agents and cutting oils
Easy to use, low-maintenance and easy to clean
Compact design for mobile operation
Complies with current hygiene standards
Precisma Oiler Release Agent Applicator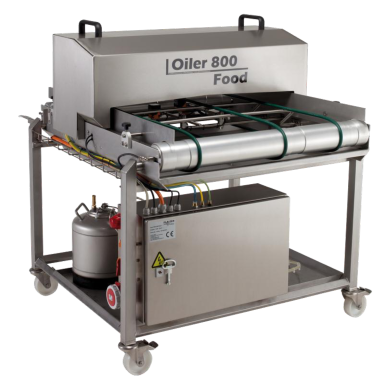 The machine was developed to oil baking trays and baking moulds uniformly, hygienically and economically.
Compressed air is used to move the release agent to the spray nozzles via a pressure tank.
The release agent is applied by Airmix spray nozzles that were adapted for the food industry.
The oil quantity can be dosed precisely using adjustment screws and can be set between approx. 1 and approx. 12g per baking tray.
To reduce release agent consumption, a control is used to spray the baking tray precisely.
Virtually every kind of commercially available release agent and cutting oil
can be used for spraying. The spray nozzles can be set so that there is virtually no spray vapour.
Precisma Universal Baking Tray Cleaning Unit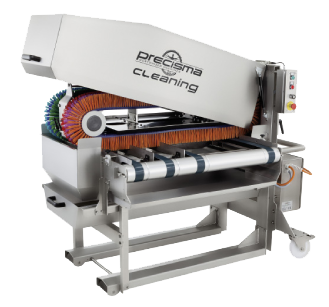 The machine was developed specifically for cleaning profiled baking trays such as baking moulds, baguettes and baking trays with 2, 3 and 4 edges. It is best suited for removing flour dust, sesame seeds, poppy seeds and lightly baked-on dough remains from the baking tray.
Cleaning occurs via belt brushes that rotate at a right angle to the direction of travel.
The brushes can adjust optimally to the baking tray's contours, and the baking remains are transported sideways from the baking tray.
The belt brushes move in opposite directions to each other so that dents, depressions, pits, etc. are also cleaned.