Commercial baking equipment from the manufacturers you trust
For the best results, start with quality bakery equipment
Finding quality commercial bakery equipment is easy with Harvest Corporation. We are suppliers of top-of-the line baking equipment from Koenig, Glimek, Sveba-Dahlen, Oliver and other brands with a reputation for equipment built to last.
If you need new or reconditioned commercial baking equipment, we'll offer you the one-on-one personalized service and advice to help you make the best choices for your restaurant, bakery or commercial kitchen needs.
WHAT'S NEW
Together we are facing a global COVID-19 pandemic that is affecting our families, communities, businesses and our way of life. We will continue to operate on regular working hours during this situation. We are taking all necessary precautions to ensure…
READ MORE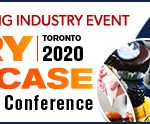 We look forward to welcoming you to our booth at Toronto Bakery Showcase 2020 on April 26 & 27. We will be at booth #503 and will have demonstrations running throughout the show!
READ MORE