Commercial baking equipment from the manufacturers you trust
For the best results, start with quality bakery equipment
Finding quality commercial bakery equipment is easy with Harvest Corporation. We are suppliers of top-of-the line baking equipment from Koenig, Glimek, Sveba-Dahlen, Oliver and other brands with a reputation for equipment built to last.
If you need new or reconditioned commercial baking equipment, we'll offer you the one-on-one personalized service and advice to help you make the best choices for your restaurant, bakery or commercial kitchen needs.
WHAT'S NEW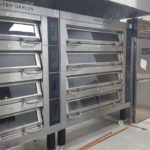 Most recent installation of SVEBA-DAHLEN Deck Ovens! Complete with stone inserts, steam and D1+ panels for finesse control over sensitive products!
READ MORE
Now offering the SVEBA-DAHLEN Deck oven with three different panel options to suit bakers needs and economics! Click  for more details: deck_oven_panels_0
READ MORE