Metering
2E Ellegard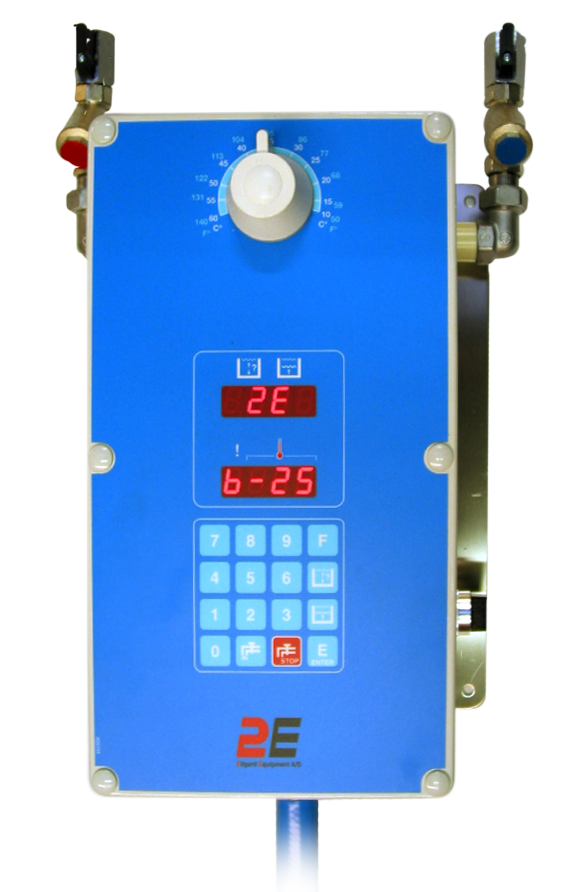 The B25 is designed for operation in bakeries requiring capacities in the area of 25 l/min (at an inlet pressure of approx. 3 bar) and an accurate temperature control.
The B25 is easy and simple to operate.
The required water quantity is set via the key-pad which is smooth and very easy to clean.
The B25 can memorize up to 3 different water quantities/programs. An intermediate stop can be entered in each program.
Temperature is set manually by means of a handle. To displays shows the set water quantity and temperature, respectively, as well as any set intermediate stops, and during metering the actual quantity is continuously displayed. By means of a button for automatic intermediate stop, the quantity of water can be divided into two portions allowing for a pre-mix.
The water mixer has a repeat function meaning that you only have to press a button to repeat the latest metered quantity.
Any interruptions of operation are easily identified by means of codes given in the temperature display.
CEPI Silsystem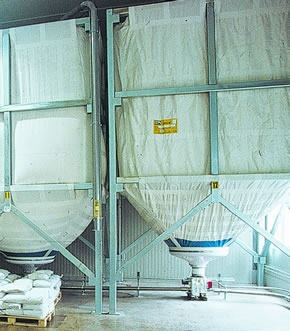 Indor silo series SILSYSTEM for food stuff in antistatic trevira fabric with built-in filtering roof. Silo is custom made and suited for powders of density up to 1,3 kg/liter. The modular structure in galvanized steel allows quick assembling and disassembling. CAPACITY: 1-70 Mc.
TECHNICAL DETAILS:
supporting structure in electical zinc-coated normalprophylated with wedge for quick assembling and disassembling;
body in ANTISTATIC trevira fabric suited for the storing of food stuff according to the CE norms for the security of powder treatmemt. It's strongly reccommended when natural oxygenation of the material is required. There is no condensation;
designed for installation in sheltered environments with natural or forced ventilation.
ACCESSORIES:
Powder recovering FILTERS compliant with CE norms;
Minimum and mazimum level probes;
Weighing system with cells.
CEPI Big Bag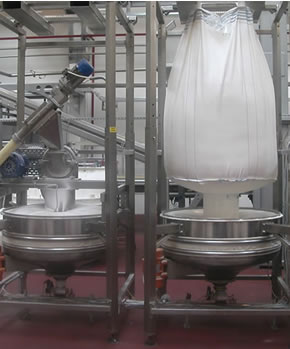 Indoor Big Bag Unloading System in painted or stainless steel, built with material suited to the storing and conveying of food stuff. Eases the emptying of Big Bags.
Modular structures in stainless steel suitable for all room solutions.
TECHNICAL DETAILS AND STANDARD EQUIPMENT:
Cylindrical shape with rectangular enlarged hemisphere to ease the placement and movement of bags;
Base trunk completed with 4 supporting feet in painted steel; supports future anchoring to the ground;
Telescopic regulation of the Big Bag supporting structure to ease support;
Epossidic baking varnish.
CEPI Micro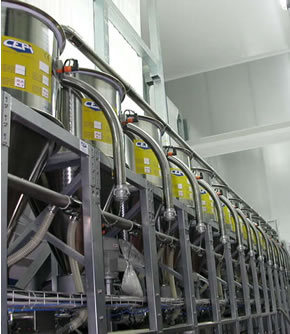 Silos are built with materials suitable for the storing of solid food stuff. Integrated dosing groups for the managment of microingredients. Structures are modular and adaptable to all room solutions, and always allow enlargments and future changes. Ingredients loading is performed manually by discharging the bags inside the hopper or by sucking the products directly from the bag from the ground level.
PATENTED MICRODISPENSERS TRIMIX: Allow the volumetric dosing of powder products. Can be used with homogenizer-fluidizer with the most difficult products. Interchangeable between products. Hoppers are completely modular therefore the capacity increases by bsimply adding a module to the base block. Group is entirely closed to avoid pollution of the stored material and powder leaks.
CEPI Silo Accessories
Loading cell
Built in high precision tin stainless steel, with anchoring bolts, 5 meters connecting cable and flexible support. Standard (10, 25, 50, 100, 150, 250, 500, 750, 1000, 1500 Kg) and custom weight.
Antiexplosion hatch
For silos and hoppers, built in stainless steel and equipped with limit switch to signal breaking.
Capacitive probe
Detects maximum and minimum level, with feeding: 24 V, contact NA in exchange, screw for regulation and calibration, joints and props and 1 meter electrical cable.
Security valve
Mechanic for silo, built in stainless steel AISI 304. Maximum pressure: 270 mm circa, minimum pressure: 20 mm circa. Equipped with regulation bars with sigil and protection carter in steel.
Cepatic security valve
Connected to silos, allows active control of pressure in the loading from tank to silo.
Filters

Filtering sleeves
Sifter
Collecting filters with socks
Monosock filter on recovery hopper
Sock filter on Silbox
Self-cleaning centralized filter for dust exhaustion
Self-cleaning dynamic filter with sleeves, 12 or 24 MQ
Dust exhausting system
CEPI Conveyance Accessories
Diverters

Four ways
Two ways flag
Two ways "Lift"
Drum
Clutch with spherical valve

Vibrosifter

Line
Gravity
Sifter on Bag Unloading System

Turbosifter
Built in steel alloy, inspection and cleaning are easy and quick, doesn't break impurities. Equipped with quick hook, grill removable for cleaning, electrical three phase motor, joints, security limit switch, basket with body in steel fusion, centrifuge with body in steel fusion and inside brush.
Deferrizzator
Deferrizzator on bags by gravity, built in stainless steel, equipped with magnetic bars in neodymium, with hatch for cleaning.
Pump

Circuation pump for heating liquid, equipped with valves set for the by-pass, capacity: 500 lt/ h.
Centrifuge for egg mix type A 20 in stainless steel 304, equipped with 0.37 kw electric motor, motor's careening in satin-finished stainless steel, quick joint for connection, valves set for the by-pass.
Washing pump type cea 120/3v. Equipped with basis and three phases electical motor.
Magnetic centrifuge pump for brain, capacity: 280 lt/min.
Monoscrew pump in stainless steel – cap: 1,7 mc/h with intercepting valves. Pump body is stainless steel aisi 304, rotor in stainless steel aisi 316.
CEPI Extraction from silos and hoppers Accessories
Rotary valve
Valve for silo emptying in steel or cast iron. Equipped with gear motor, transmission chain and pinions, tin props on heads, protection carter.
Butterfly valve
Valve for silo emptying with variable diameter to meet specific needs, with manual command equipped with control lever; or with electropneumatic control and 5 ways electrovalve. The valve is made entrely of stainless steel AISI 304.
Screw conveyor

Tubular screw conveyor in stainless or painted steel for extraction with with gear motor, with standard or custom diameter and length. Equipped with self-aligning props on the heads and support in painted or stainless tubular. Can be built with another unloading mouth. Diameter of the probe holder is 2 1/2 " in stainless steel and extension staff in stainless steel with pivot in stainlesss steel;
Pouring channel screw conveyor with standard or custom diameter and length, in painted or stainless steel. Equipped with self-aligning props on the heads and support in painted or stainless tubular.

Blowing unit

Centrifugal compressor in pressure for fluidification system. Equipped with manostat, filter, shelf, tire gauge and various connections. Three-phase electrical motor: 220/380 V – 50 Hz.
Pneumatic conveying system composed by centrifugal compressor with asynchronous three-phase electrical motor, recovery filter for impurities equipped with protection, supersilencer with external careening in painted steel, antivibration prop, security valve equipped with tire gauge, manostat and non-return valve.
Pneumatic conveying system in suction composed by centrifugal compressor, three-phase electrical motor. Equipped with security grill with joint, supersilencer with external careening in painted steel, tire gauge and antivibration prop.
Filter for blowing unit equipped with cartridge, cartridge cover, joint for collection to blowing unit.