I Series Rack Oven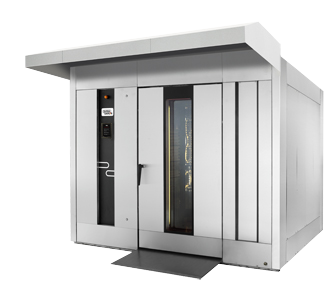 Insulated floor prevents heat loss and
curving of the floor.
Easy to install. Assembly from inside
the baking chamber.
Firm and solid door lock / handle.
Strong platform ramp adjustable in
height.
Stable platform.
Tightly fastened and easy to open
door glass.
Strong functional hinges.
Build in adjustable holding function
in the hinges.
Counterflow
The oversize heat exchanger is working in accordance with the counter-flow principle. More effective heat exchange, higher fuel efficiency and lower heating costs.
SD touch control panel
The all-new Sveba-Dahlen panel is self-learning and easy to use, and it makes all you're baking simpler. At the same time, this new panel gives you plenty of chance to develop your procedures and abilities.
Cascad
Patented steam system with very high capacity. Makes continuous baking without interruption possible.
IBS
Increased Baking Surface – Sveba-Dahlen's patented system for alternating rotation of the racks. Faster, more even and economical baking.