P600 Pizza Oven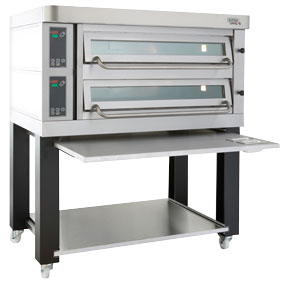 A pizza oven that retains its heat!
This unique and well insulated oven with double tempered steel glass is extremely energy efficient, its very economical to use and distributes the heat very evenly ensuring that the pizzas are cooked correctly without having to move them during baking. The P600 is optimized to handle 6 pizzas with 35 centimeter diameter per deck. The oven will be available from one deck up to 3 decks high.
Week timer
With the week timer you can program start and stop times for the entire week, this means that the oven will always be at the correct operating temperature when you start your day.
Oven door
The double glazed door retains the heat inside the oven chamber better compared with a single door glass. This gives a better baking result as well as a better working environment. The robust door structure with the ergonomic handle is easy to open and close.
Shelves
There are two robust, pull out shelves with bowls under the oven. These work perfectly as stands and allow you easy access to products such as spices and oils.