BELSHAW EZ MELT18 FILTER SYSTEM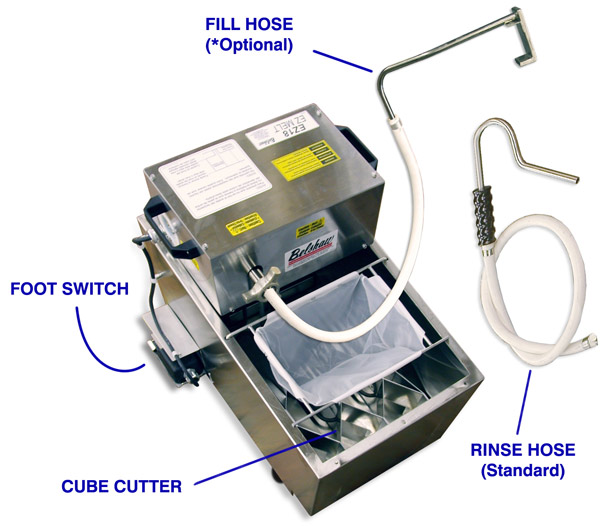 The EZMelt18 is a recycling filter that heats shortening in the tank, with these benefits:
If Zero Trans Fat shortenings are used, they gradually become thicker at normal bakery temperatures. This can lead to pump blockages and failures with standard filters. Using the heated EZ Melt overcomes this problem.
Pumping reheated shortening through a fixed connection to the fryer is faster and safer than any other method, such as dropping in shortening blocks. The EZMelt does this using a refill hose (optional) which attaches directly to a Belshaw fryer.
Standard features
Compatible with 618L, 718LCG and 718LFG fryers, Donut Robot® Mark II, and Donut Robot® Mark V.
Can be used with any standard donut shortening including Zero Trans Fat shortening
Heating element with factory set thermostat to 225°F/107°C. Element tilts up for easy tank cleaning. Tank itself is readily removeable.
Long-life synthetic filter screen that needs only annual replacement under normal operating conditions.
Heavy duty pump & motor for pumping shortening to the fryer on demand
Heavy duty, moisture repellent foot switch for activating pump
Cube cutter for fast melting of solid shortening blocks up to 50lbs (22.7kg)
Hand held rinse hose with heat resistant handle
Optional Refill Hose – allows regular topping up of fryer through a fixed connection to the fryer. The refill hose can be left in place on a Belshaw fryer at all times allowing frequent topping up of shortening level (purchased separately, see accessories)
High-temperature limit switch
120V or 240V, 50 or 60 Hz, 1-Phase
Certified by ETL to NSF Std 4, CSA C22.2, and UL 1889